Skip to main content.
Orion Custom Indexing
Powerful Personalization
for Every Investor
Manage tax-efficient, personalized portfolios at scale through a tech-enabled, competitively priced solution.
Be Part of the $362 Billion2 Opportunity
As clients continue to demand more customized services, there are now more than $362 billion2 in direct indexed separately managed accounts. Advisors who are looking for a powerful differentiator to their offering need to start delivering personalized portfolios at scale in order to attract and retain client relationships.
Customization driven by you. Expert guidance and support from us. All fueled by the #1 all-in-one software program used by advisors.1
Contact our team of experts to learn more:
Build Custom Portfolios. Minimize the Impact of Taxes.
Easily bring proactive tax management to every client through cost-effective and customized portfolios at the touch of a button.

Offer Flexible, Tax Efficient Strategies
Improve "after tax" client returns and reduce taxes, plus gain new clients by transitioning portfolios easily and tax-efficiently:
Proactive and ongoing tax loss harvesting
Tax-effective transitions
Capital gains budgets

Customize the Investing Experience
Deliver portfolios that align your investor's personal needs or beliefs with their investment objectives:
ESG, SRI, & Faith-based screening
Concentrated positions
Sector/Industry preferences

Gain New Clients
Elevate your offering to clients and prospects while growing your bottom line:
Partner with CFA Credentialed Portfolio Managers to optimize and monitor client portfolios on a continuous basis, at a lower cost
Attract high-net-worth clients by addressing many of their main concerns around tax management and customization

Leverage Orion's Premier Tech Suite
Generating tax alpha can help you deliver better client outcomes.
Streamline trading & reporting by implementing Orion Custom Indexing via a sleeved account at the custodian of your choice
Eliminate the need for time consuming processes through ongoing tax-loss harvesting & optimize against benchmark indexes
90%

of investors agree that taxes can eat at their portfolio the same way volatility can3

79%

of investors believe their advisor should be focused on minimizing their tax obligations3
Deliver Proactive Tax Management — In Just a Few Clicks
Start with a selection of a target investment mandates that align with your client's values, goals and objectives, then customize those portfolios across a wide array of options including tax transitioning, setting capital gain budgets, applying social screens or security restrictions.
Set Your Firm Apart
Learn how you can gain an edge by incorporating Custom Indexing into your practice.
Deliver Personalization at Scale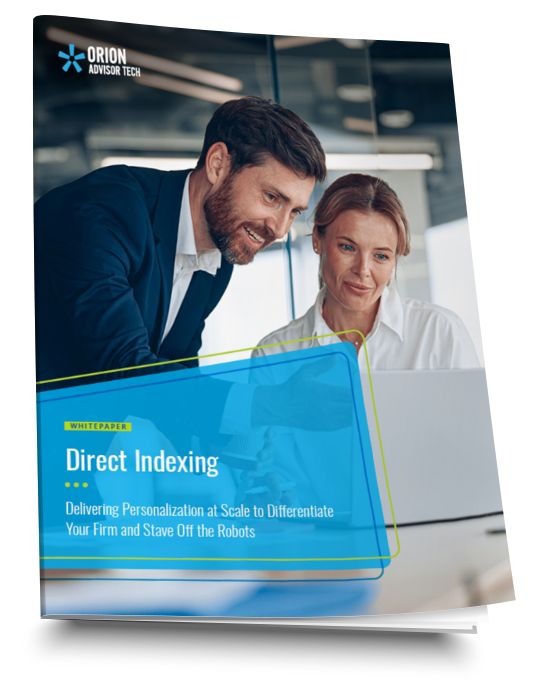 Ready to Get Started?
Contact us today to learn more about how Orion's Custom Indexing can help you cut down on management time and costs, win additional clients,
and stand out from the crowd.
Footnotes
Source, T3 Inside Information Software Survey, 2022. Orion has #1 Market Share for All-In-One Software Programs
Source, Orion Research Initiative maintained a +/- 2.9% margin of error among consumer investors across generations and a +/- 3.8% error rate among Financial Advisors. A mixed methodology was applied that included a robust base of more than 2000 constituents in the online surveys and dozens of in-depth interviews on the topic.
Compliance Code: 1 8 1 6, Orion Advisor Solutions, September, 29, 2022
1816-OAS-9/29/2022