Skip to main content.
Here the Destination is as Important as the Journey
As a trusted advisor, your clients look to you for guidance as they navigate the journey towards their financial dreams and goals. As your dedicated partner, you can rely on us to stay focused on their investment outcomes. Introducing Destinations.
Deliver Better Investor Outcomes
Brinker Capital's Destinations Portfolios are dynamic, multi-asset class solutions focused on meeting a range of investor needs and delivering better investor outcomes. Destinations is offered through six dynamic risk-based portfolios and three income-focused portfolios, with versions for tax-sensitive investors.
Destinations Portfolios
Leverage Brinker Capital's expertise in building diversified, actively managed, and innovative portfolios to help your clients reach their destination.
Core to all investment decisions is the belief that capital needs to be invested for wealth to be created – and remain invested.
The Destinations Portfolios are built using the Destinations Funds, a series of multi-manager, sub-advised mutual funds.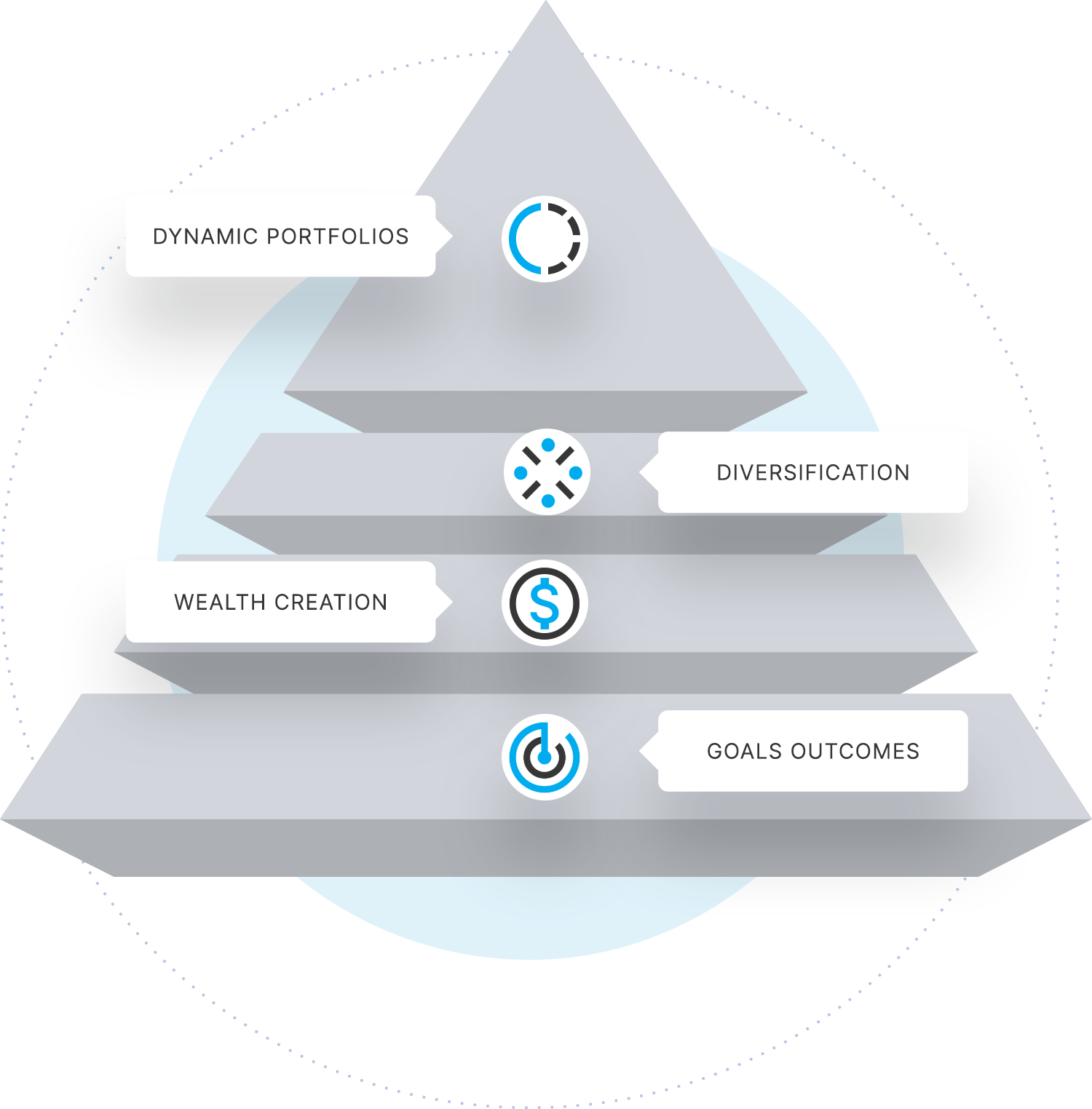 Destinations Portfolios are broadly diversified with a mix of growth, stable, and diversifying assets, delivering greater performance consistency and risk mitigation to help keep clients invested.
Personalized distribution strategies available
Available in a hybrid ETF format
Available for Retirement Plan Services
Webinars
Tim Holland
CFA, Chief Investment Officer
Amy Magnotta
CFA, Senior Vice President,
Head of Discretionary Portfolios
Why We Own What We Own
On Demand Webinar
Join Tim Holland, CFA, Chief Investment Officer at Orion Advisor Solutions, and Amy Magnotta, CFA, Senior Vice President, Head of Discretionary Portfolios, to learn about the third-party investment managers currently utilized in the Destination Funds, our latest asset allocation themes, and what we're focusing on in today's market.
Amy Magnotta
CFA, Senior Vice President,
Head of Discretionary Portfolios
Destinations Overview
On Demand Webinar
Join Amy Magnotta, CFA, Head of Discretionary Portfolios at Brinker Capital Investments, to learn about Brinker Capital's dynamic yet flexible, multi-asset class investment approach, how they view active and passive investment management, and how they differentiate in due diligence and advisor support services.
The Building Blocks of Destinations
The Destinations Funds, which launched in 2017, are exclusively designed to be the building blocks of the Destinations Portfolios. They have been ranked in the top ten of Barron's Best Fund Families in two of the last three years since being eligible. In 2020, Destinations Funds ranked 8th overall and 2nd in the U.S. Equity category.
Finding the right third-party investment managers to fill a portfolio's needs requires a depth of experience and extensive research.
Innovation and early adoption of concepts, ideas, and solutions are the threads that run throughout our 30-year history.
Both active and passive investment management is valued, helping provide a superior overall return profile.
A comprehensive due diligence process is maintained and executed to identify the right managers to meet the strategy objectives and add value.
Dynamic Asset Allocation Focused on Expected Outcomes
The Destinations Portfolios are constructed using a long-term, strategic allocation approach complemented by an active overlay. Deliver core portfolio solutions where many wins versus a single decision dictate success.
We rely on the insights from independent research providers, internal research, and investment managers when making key asset allocation decisions and adjusting portfolio weightings.
The active shifts, which occur within a stated range for each asset class, are based on short and intermediate-term macro views. Portfolio managers can take advantage of potential market opportunities and reduce exposure to potential risks while staying aligned with the portfolio's objectives. Shifts are made both within a single asset class and across different sub-asset classes and strategies.
We strive to keep advisors informed of active asset allocation shifts through market outlooks and summaries, including Brinker Capital's monthly Market Barometer.
Resources and Additional Insights
The investment team regularly offers market perspective through various means, including webinars, white papers, commentaries and talking points regarding market conditions, portfolio updates and potential impacts to investor behavior.
Destinations
All about Destinations
Multi-Asset Class
Investment Solutions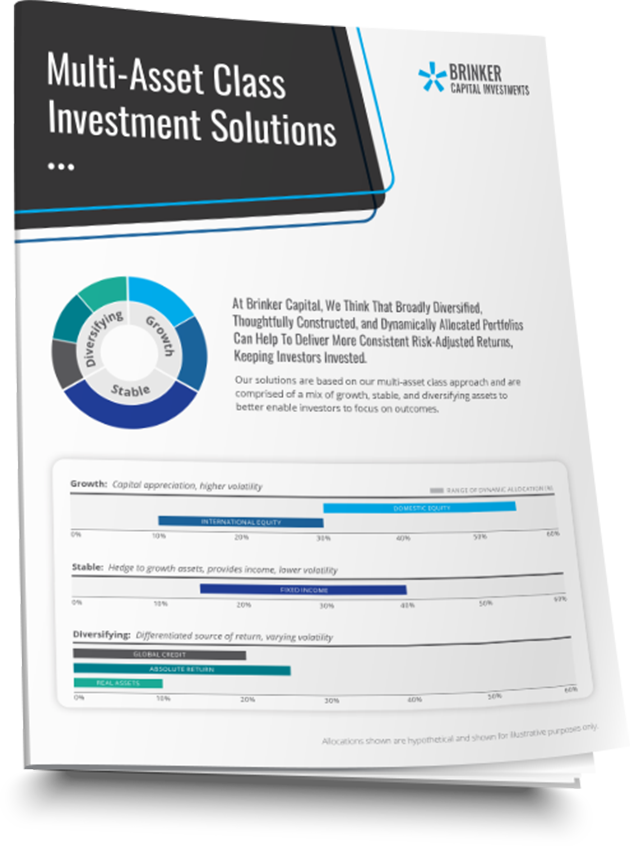 Get Started Today
The most valuable partners understand your goals and offer ways to help you grow your business. Contact us today to start driving toward better outcomes.
Past performance is not indicative of future results.
An investment in the Funds is subject to risks, and investors could lose money on their investment. Outcomes depend on the skill of the sub-advisers and adviser and the allocation of assets amongst them, as well as market fluctuations and industry/ economic trends, etc. There can be no assurance that the Funds will achieve their investment objectives. Investors should consider the investment objectives, risks, charges and expenses carefully before investing. For a prospectus with this and other information about the Funds, please call 877-771-7979. Read the prospectus carefully before investing.
The Destinations Funds are distributed by Foreside Fund Services, LLC.
Barron's and Brinker Capital Investments are non-affiliated firms.
The CFA® is a globally respected, graduate-level investment credential established in 1962 and awarded by CFA Institute — the largest global association of investment professionals. To learn more about the CFA charter, visit www.cfainstitute.org the C.F.A. Institute's website.
Compliance Code: 1 3 9 8, Brinker Capital Investments, April, 23, 2021
1398-BCI-04/23/2021