Skip to main content.
Tax Managed Solution
Amplify Your Expertise
Orion's Tax Managed Solution makes it easy to bring proactive tax management to every client — empowering you to help improve outcomes, enhance relationships, and drive business growth.
Are You Talking About Tax Management With Your Clients?
Today's Investors Expect More From You Than Ever Before

As the wealth management universe shifts — a combined result of markets rising over time, embedded capital gains, ever-changing tax codes, and heightened investor expectations — advisors are under pressure to provide proactive tax management solutions to clients.
Grow, Scale, and Differentiate With a Tax-Managed Approach
Contact our team of experts to learn more about the difference the Orion Tax Managed Solution can make to your clients.



Clients Want Proactive Tax Management
90%

of investors agree that taxes can eat at their portfolio the same way volatility can*

79%

of investors believe their advisor should be focused on minimizing their tax obligations*
Meet the Unique Needs of Your Clients
Help Solve Their Tax Challenges With The Right Team & Technology
Transition assets tax-effectively
Attract new clients, gather new assets, or transition a new book of business.
Set capital gains budgets
Determine a budget for capital gains and proactively manage to it.
Provide proactive tax loss harvesting
Manage taxes throughout the year, rather than just at year-end.
Serve clients more effectively
Generating tax alpha can help you deliver better client outcomes.
Compete more successfully
Differentiate your practice with more personalized offerings.
Grow your business exponentially
Attract higher net worth clients and manage more assets more efficiently.

Learn More
Create Truly Personalized Portfolios
Orion's Tax Managed Solution can help you address the needs of clients with deeply embedded capital gains, concentrated positions and those seeking more tax efficient portfolios — enabling you to provide clients with customized portfolios at scale and elevate your advisory practice.
Tax Transition Management
Plan transitions over a specific timeframe to limit capital gains when moving clients to their ideal portfolio
Personalized Client Proposal
Demonstrate the benefits of a tax managed solution to clients through a custom proposal designed to help guide your conversation
Tax Managed Suite of Portfolios
Our tailored separately managed account solutions (powered by Brinker Capital Investments) create the pathway for tax management and provide you the flexibility to build portfolios that are specific to client's investment needs and values

60%

of advisors agree that employing a proactive tax management solution would save them between 10-20 hours of work each month!*
Webinars & Events
Sign up to hear more about Orion's Tax Managed Solution and check out our on-demand presentations for the latest tax management insights and guidance to share with investors.
Let's Talk Higher Taxes: The Policy Debate Heats Up
On-Demand

Hear Andy Rosenberger, CFA, Head of Orion's Tax-Managed Solution, and Steve Pavlick, Head of Washington Policy Research for Renaissance Macro Research, discuss the latest on the proposed changes to the tax code and the potential impact to the economy, the markets, and your investment portfolios.

Watch Let's Talk Higher Taxes: The Policy Debate Heats Up Now
Resources to Help Set Your Firm Apart
Gain actionable ideas for incorporating tax management into your practice.
Minimizing the Impact of Taxing Situations (Investor-Approved)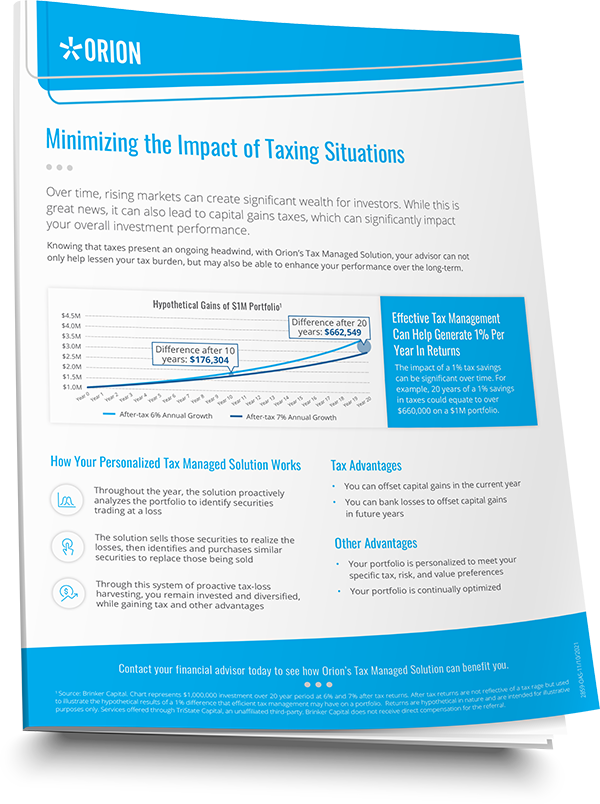 Ready to Get Started?
Contact us today to hear how this solution can help your team grow, scale, and differentiate with the support of a dedicated tax management team.

Compliance Code: 2 8 9 0, Orion Advisor Solutions, November, 12, 2021
2890-OAS-11/12/2021

*Orion's Research Initiative maintained a +/- 2.9% margin of error among consumer investors across generations and a +/- 3.8% error rate among Financial Advisors. A mixed methodology was applied that included a robust base of more than 2000 constituents in the online surveys and dozens of in-depth interviews on the topic.