Skip to main content.
TownSquare Capital (now Orion OCIO) clients login here.
Focus On Growth
Get the horsepower and team to win more — and bigger — business, faster. Supercharge your growth and do it with scale when you add our OCIO services to your team. Watch our latest webinar to learn more.
Customization driven by you. Expert guidance and support from us. All fueled by the #1 all-in-one software program used by advisors.1
Contact our team of experts to learn more:
Take Back Time in Your Day

Portfolio Construction
Spend your time building your business, not portfolios. Offer customized portfolios designed to meet each client's unique needs, built and monitored by an experienced team of experts.
Manager due diligence
Customized portfolios, design and construction
Portfolio monitoring and rebalancing

Trade Desk
Get a full-service trading desk that includes execution of our preferred manager strategies or your own custom and/or outside money manager models.
Simplify trade operations
Reduce costs
Empower your team

Wealth Advisory
Everything you need for the clients you want. Grow your business with exceptional wealth experiences for high-net-worth investors.
Tailored investment portfolios
Multi-layered tax management
Exclusive service and support

Custom Indexing
Be part of the $362 billion1 opportunity and create truly personalized, tax-efficient client portfolios at scale through a tech-enabled, competitively priced solution.
Offer flexible, tax-efficient strategies
Customize the investing experience
Gain new clients and set your firm apart
63%2

Growth in AUM per year (2018-2021) of advisory teams who work with us

100%2

Teams who've grown faster than the industry average of 13.1%
Finally Overcome Your Biggest Growth Challenges
Advisors today are trying to do it all. Learn how Orion OCIO offers a complete menu of high-touch services to help your firm stay focused on what matters most and finally achieve the growth you've been striving for.
Create Capacity for Growth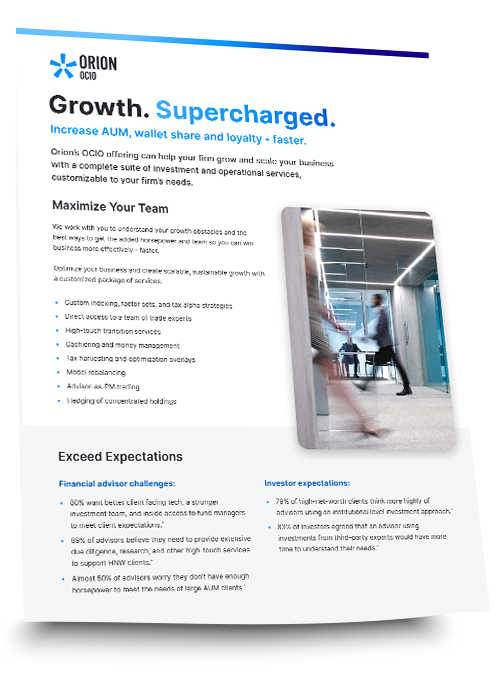 Grow Your Firm Faster
Expand your capabilities, deepen your resources, streamline your operations and finally spend more time focused on clients.

Compliance Code: 0 6 2 4, TownSquare Capital, February, 27, 2023
0624-TSC-2/27/2023